Waimea
With its rolling, green ranchlands, majestic hills and incomparable blue skies illuminated by sunlight piercing through wisps of streaming white clouds, upcountry Waimea is unlike anywhere else in all of Hawaii Nei.


Divided into a wet side and a dry side, Waimea encompasses a variety of climate zones. A short drive up the highway from the sleepy seaside outpost of Kawaihae, the arid side of Waimea is dotted with residential communities situated alongside a running stream. Charolais cattle graze above historic Anna Ranch on the way up into Waimea Town, also known as Kamuela, via Kawaihae Road. The town can also be accessed from the south by the "upper" Mamalahoa Highway that passes alongside Parker Ranch rodeo arena beneath the shadow of Mauna Kea.

Indeed, Waimea is Paniolo Country. Founded in 1847, Parker Ranch still exists as one of the largest privately owned cattle ranches in the country. The area's paniolo heritage is in evidence throughout town, from stop signs that read "Whoa," to bronze statuary honoring local rodeo champion Ikua Purdy. Unique custom homes abound throughout Waimea, including on the east side of town on the way to neighboring Hamakua. Here, expansive ranches, vintage estate homes and plantation-era cottages are just some of the types of residential properties that grace this breathtaking region of Hawaii Island.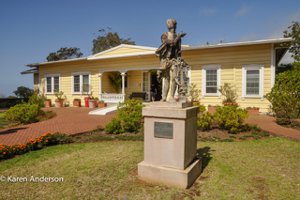 Waimea offers an idyllic setting for family life. Churches, schools, parks and playgrounds abound. The prestigious Hawaii Preparatory Academy offers private K-12 education with room and board, while another independent school, Parker School, is accredited for K-12 students.  The agricultural breadbasket of the Hawaiian Islands, Waimea is home to a bounty of farms that grow everything from island-fresh tomatoes to the highest quality produce sourced by world-class chefs at the Kohala Coast resorts. The abundance of local products is reflected at the weekly Waimea Homestead Farmers Market on Saturdays, as well as at acclaimed culinary destinations like Merriman's restaurant.

A mere 15-minute drive to the beautiful white sand beaches of Mauna Kea, Puako and Waikoloa Beach Resort, Waimea is easily accessible to the shopping, dining and recreational attractions of the major resorts, while also affording a mild, year-round climate that denotes country living at its finest.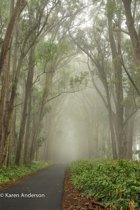 White Road on Waimea's east side attracts hikers, walkers and bike riders through a canopy of eucalyptus trees leading to the top of Waipio Valley. 
(c) Karen Anderson, photos & article